Changes in the Executive Board of Delvag: Roland Kern hands over to Martin Schmatz
Martin Schmatz becomes a new member of the Executive Board of Delvag Versicherungs-AG and a member of the management of Albatros Versicherungsdienste GmbH // Roland Kern leaves the Delvag Executive Board and the Albatros Management after three years to retire
Press Release / 29.06.2022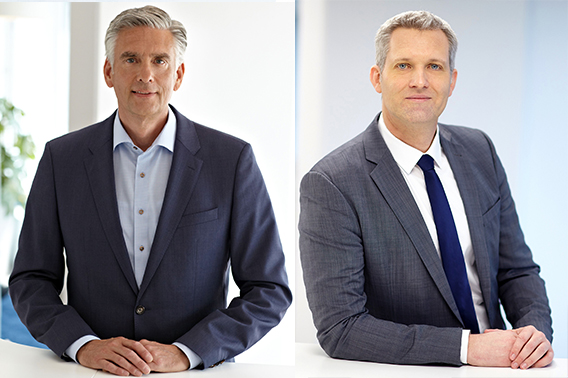 Martin Schmatz will become a member of the Executive Board of Delvag Versicherungs-AG and a member of the management of Albatros Versicherungsdienste GmbH on 01 July 2022. He succeeds Roland Kern, who will leave the Delvag Executive Board and the Albatros management after three years on 30 June 2022.
Martin Schmatz thus forms the Executive Board of Delvag Versicherungs-AG together with Lorenz Hanelt and will be responsible for the areas of Corporate Development, Finance, Human Resources, Legal and IT in the future. Together with Lorenz Hanelt and Martin Gary, Martin Schmatz completes the management of Albatros Versicherungsdienste GmbH.
"Over the past three years, Roland Kern has continued to drive forward the transformation of the Delvag Group with his distinctive process expertise. Under his leadership, Delvag and Albatros have continued to grow and have significantly sharpened their role as risk managers of the Lufthansa Group. On behalf of the entire Supervisory Board, I would like to thank Roland Kern for this outstanding achievement. We wish him all the very best for his coming retirement," says Dr Roland Busch, Chairman of the Supervisory Board of Delvag Versicherungs-AG. "Martin Schmatz is an experienced manager and proven financial expert who, with his diverse experience in Germany and abroad, will be an excellent addition to the Delvag Executive Board," said Busch.
Martin Schmatz has been the Chief Representative of Delvag Versicherungs-AG since 1 January 2022. As Head of Finance and Accounting, he has been responsible for the finance department of the Delvag Group since November 2018, which he has since decisively developed further in order to meet the requirements of modern financial management at insurance companies. He began his career at the Lufthansa Group in 2005, where he held various positions in the areas of finance and human resources in Germany and abroad until 2015. In 2015, Martin Schmatz moved to the Delvag Group, where he was Managing Director of the Albatros subsidiary Star Risk Services Inc. in Dallas, Texas, and was responsible for implementing a sustainable strategy for the US market.
Roland Kern is retiring after three years as a member of the Executive Board at Delvag and a member of the management at Albatros. He has strengthened the Delvag Insurance Group from the inside out by significantly optimising processes, e.g. using the Lean Six Sigma method, and thus further aligned it for the future. This has also been demonstrated in the past two Corona years, which Delvag has resiliently mastered. Until mid-2018, he was Managing Director of Lufthansa AirPlus Servicekarten GmbH, where he was responsible in particular for Finance, Operations, Global Services and Regulatory & Risk. He started his career at the Lufthansa Group in 2006 and was Head of Group Treasury at the Lufthansa Group until 2014. There he was responsible for cash management, liquidity and risk management, as well as asset management and pension funds. Prior to that, the banker and state-certified foreign trade business economist worked for 22 years at Deutsche Bank in various positions in sales as well as product and risk management.
 
From Corporate Communications Delvag Group
Delvag Versicherungs-AG
Tel. +49 221 8292-309
kommunikation@delvag.de