Delvag increases earnings in 2018 and continues growth course
Total earnings of EUR 13.8 million before taxes achieved, premium volume increased to EUR 103.3 million • Earnings include investments in the further development of the Group • Strategic measures accompany growth course also in 2019
Presse Release / 09.05.2019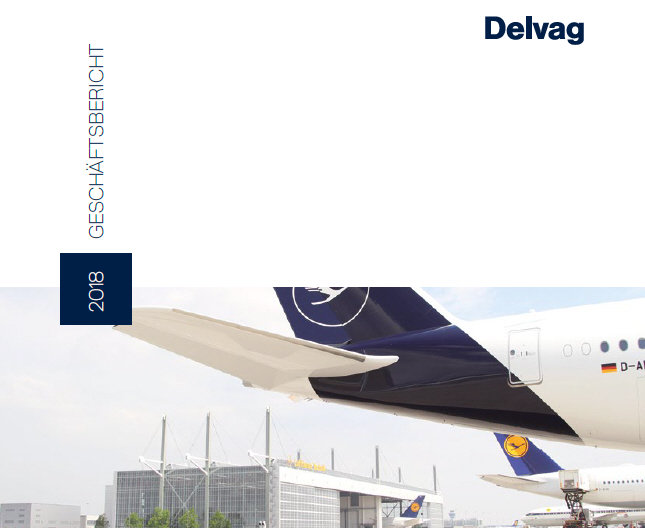 Delvag grew in the 2018 financial year and continued the positive results of previous years. Overall, Delvag achieved total earnings before taxes of EUR 13.8 million, which is slightly above the previous year's result of EUR 13.2 million.
"2018 was another good year for Delvag. The strategic measures taken in recent years are bearing fruit. At the same time, we have set the course for the future, are even more customer-oriented and are investing in digital products and processes. We even slightly exceeded our 2018 earnings target. This result reflects the great team effort of all Delvag Group employees", says Frank Hülsmann, member of the Delvag Management Board.
"Our aim is not only to adapt to changes in the market, but also to make active use of them. Delvag will also be confronted with overcapacities and premium erosion in its portfolio. Digitalisation remains one of the biggest drivers of change in the insurance industry. This presents us with challenges, but also offers opportunities," says Lorenz Hanelt, member of Delvag's Managing Board. "In 2018, we continued to work on exploiting these opportunities, for example through online marketing or process automation."
Significant increase in underwriting result
In 2018, Delvag increased the gross premiums written to EUR 103.3 million (previous year: EUR 97.3 million). Higher income from specific occupational disability insurance policies made a significant contribution to this increase. Premiums in fire and aviation insurance also increased significantly as early compensation for life reinsurance business, which was largely terminated at the end of 2018. Earned premiums for own account also increased significantly by EUR 11.0 million to EUR 71.7 million (previous year: EUR 60.7 million). The underwriting result before equalization provision increased to EUR 13.5 million (previous year: EUR 7.9 million). The increase mainly resulted from the increased premiums and a decrease of 2.7 percentage points in the claims ratio to 82.5 percent. After equalization provision, the underwriting account closed with total earnings of EUR 14.8 million (preceding year: EUR 7.8 million).
Non-underwriting business in 2018 was characterised by the persistently low level of interest rates and negative developments on the stock market. The investment result decreased to EUR 11.9 million (previous year: EUR 16.0 million). The decline also resulted from a lower profit transfer from the subsidiary Albatros. Restructuring was carried out as part of the realignment of the employee broker. As expected, the associated investments and lower commission income led to a low investment result for Albatros in 2018. The non-underwriting account closed with a loss of EUR 1.0 million (previous year: earnings of EUR 5.4 million).
Delvag closed the year under review slightly better than expected and achieved a total earnings before taxes of EUR 13.8 million.
Under the existing profit transfer agreement, Delvag transferred a total profit of EUR 7.7 million (previous year: EUR 5.6 million) to the parent company Deutsche Lufthansa AG. As in the previous year, EUR 1.5 million was transferred to retained earnings in order to further strengthen Delvag's equity.
The growth course embarked on will also be accompanied by various strategic measures in 2019. Among other things, the company is investing significantly in the further modernisation of the insurance application landscape of Delvag and Albatros. The Managing Board therefore expects a good overall result for the 2019 financial year, which will probably not reach the level of the year under review due to the aforementioned investments. For the following years, however, the Management Board expects an overall result again, which will show a stable increase.
The complete Annual Report 2018 is available as a digital version here at www.delvag.de.

By Maria D'Antuono
Delvag Versicherungs-AG
Head of Marketing & Communication Delvag
Tel. +49 221 8292 309
maria.dantuono@delvag.de